Playing Screen Recordings
Users with the Playback Recording permission in their Security Profile can play screen recordings.
To play screen recordings click the

navigation icon. The Recordings tab displays containing the search criteria bar and the search results table. To playback a screen recording complete the following steps:
Change the Media Type criteria to Screen Recordings.
Click the Search button. The screen recordings satisfying the search criteria are listed.
Left click the screen recording you wish to play and click the Details button in the context menu.

| | |
| --- | --- |
| | The Preview function is not available for screen recordings. |
The screen recording details tab is displayed, the tab name contains the user's name and the date and time of the recording. The tab contains a video of the screen recording, the name of the recording file and the video controls for playback. The video will be auto played once the tab is fully loaded.
The video will play using the browser's native video player, so the controls will vary depending on which of the QMS supported browsers you are using.
Click the

button to pop out the video player into a new window, which will also remove the video player from the main recording tab.
Click the

button to restore the video player in the main recording tab.
| | |
| --- | --- |
| | Screen recordings are played back using the .WEBM format. Internet Explorer users can download the WebM Plugin for Internet Explorer from this link: https://tools.google.com/dlpage/webmmf/ |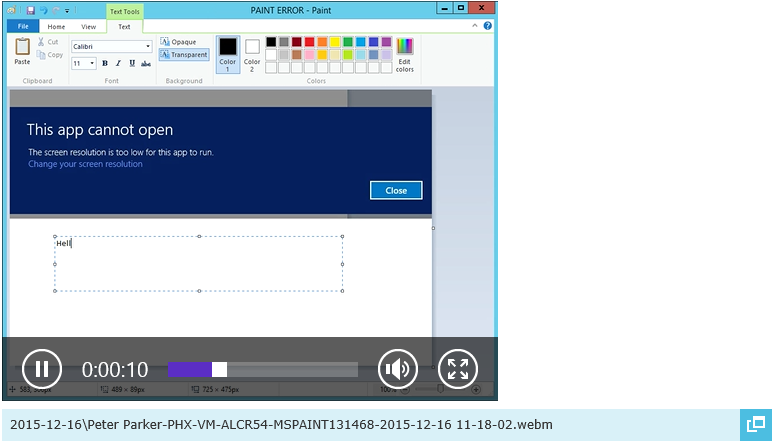 | | |
| --- | --- |
| | Users must have the Playback Recording permission in their Security Profile to play screen recordings. If their profile also contains the Change System Settings permission they can also access the audit log events for the screen recording on the recording details tab. |
The screen recording tab also contains any Flags, Description, and Notes that have been applied to the screen recording; you can edit these as required. If you have the appropriate permission, the foot of the page also displays the Audit Log records for the screen recording.
Override Recording Retention Settings
Authorized User for Playback Option